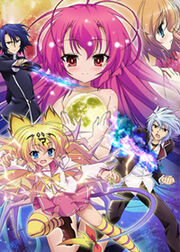 A Dark Rabbit Has Seven Lives (いつか天魔の黒ウサギ Itsuka Tenma no Kuro Usagi) is a Japanese light novel series by Takaya Kagami, with illustrations by Yuu Kamiya. As of January 20, 2011, 7 volumes have been published by Fujimi Shobo under their Fujimi Fantasia Bunko label. The series also have a spin-off series, Kurenai Gekkō no Seitokaishitsu (紅月光の生徒会室?), which as of April 20, 2011, has 3 volumes published. A manga adaptation by Shiori Asahina started serialization in the shōnen manga magazine Monthly Dragon Age on October 9, 2009. An anime adaptation has been announced, and is scheduled to air in July 2011.
Plot
[
]
Kurogane Taito is a freshman in Miyasaka High. After an injury that prevented him from practicing karate, which he excelled in since elementary school, he had always believed that he was an ordinary, regular guy. However, due to a forgotten promise exchanged with beautiful Vampire (Most Ancient Sorcerer) Saitohimea nine years ago, he was in fact no longer ordinary. Taito later went on to regain his memories after a certain incident, and was reunited with Saitohimea. Along with unlikely allies, Kurenai Gekkou, Miyasaka High's student council president and a genius bent on avenging his parents, and Andou Mirai, a cute lightning demon and familiar of Gekkou, they have to contend against Gekkou's twin brother, Kurenai Hinata, who sought to resurrect the powerful Vampire (Most Ancient Sorcerer) Bahlskra. Unknown to them, their destinies were already woven and foretold in an ancient prophecy of epic proportions.
Episode List
[
]
900 Sec After School (Part One)
900秒の放課後<前編>
900-Byō no Hōkago (Zenpen)
#01
July 9, 2011
Kurogane Taito learns the truth about Saitohimea and the things that happened in the past.
900 Sec After School (Part Two)
900秒の放課後<後篇>
900-Byō no Hōkago (Kōhen)
#02
July 16, 2011
Teito and Gekkou defeat Hinata. Is Teito dead or was it just a dream?
"Moon" of the Poolside Swing
《月》が揺れるプールサイド
"Tsuki" ga Yureru Pūrusaido
#03
July 23, 2011
Teito learns the truth about the school and Hinata is still alive? And what is this strange red rain?
The Seraphim Yet Unsung
いまだ天魔は歌われない
Imada Tenma wa Utawarenai
#04
July 30, 2011
What is happening in the school? What does Bahlskra want?
And the Seraphim is Sung
そして天魔が、歌われる
Soshite Tenma ga, Utawareru
#05
August 6, 2011
Gekkou meets the Seraphim while Taito frees Himea from her spell.
Differences and "Extracurricular" Classes
すれ違いの《課外》授業
Surechigai no "Kagai" Jugyō
#06
August 13, 2011
Gekkou and Mirai go to locate some spells around the city, while Taito realizes that he has to become stronger for Himea's sake.
First-year Teacher's Pop Quiz
抜き打ちテストの新任教師
Nukiuchi Tesuto no Shin'nin Kyōshi
#07
August 20, 2011
Taito and Himea go on a journey to find Taito's new power, while Gekkou and Mirai meet the new teacher.
The Student Council of Remedial Students
全員補習の生徒会室
Zen'in Hoshū no Seito-kai-shitsu
#08
August 27, 2011
Taito, Himea and the rest of the group go to the beach to train.
150px
Dark Rabbit at the Beach
波打ちぎわの黒ウサギ
Namiuchigiwa no Kuro Usagi
#09
September 3, 2011
Haruka arrives at the beach. How will the love triangle end up?
Spirited Classmates
神隠しの同級生
Kamigakushi no Dōkyūsei
#10
September 10, 2011
Haruka is captured by the Entorio Brothers. Taito and the rest of the group, plan how to save her.
Summer Vacation Catastrophe
-
-
#11
September 17, 2011
Taito saves both Haruka and Himea, while Gekkou had a visit from Hinata.
Pale White Graduation
-
-
#12
September 24, 2011
Everyone went to the hot springs for some rest.
Scheduled Episodes
[
]